USA - FREE SHIPPING OVER $100 | SHIPPING LEAD TIME OF 10 - 14 DAYS
WHO WAS INVOLVED IN CREATING YOUR SEALAND GEAR?
Our Family
Our Family
Our team embodies the Sealand brand and combines passions for business, the outdoors, fashion, design, and innovation. Amongst our family there are endurance runners, surfers, avid hikers, creative trailblazers and ingenious personalities.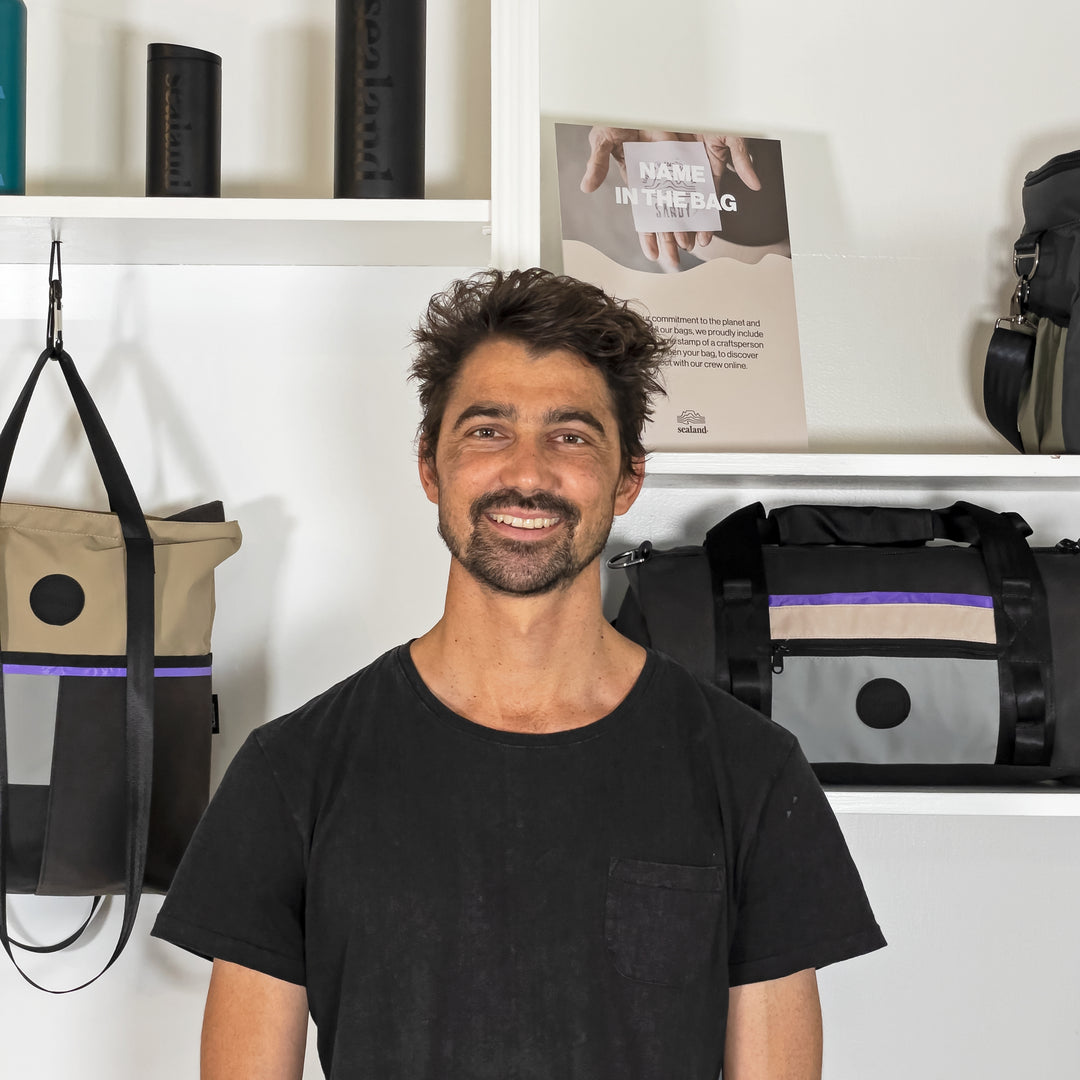 Jasper Eales
Jasper Eales, one of the original founders of Sealand, is the imaginative mind behind the brand. He drives the brand's focus to achieve refined, practical solutions, which are designed to last. While he focuses on new product development, marketing strategies and the branding process, he sneaks a peek into all areas of the business to say hello to his Sealand family and chat about weekend plans. 
He envisions Sealand becoming one of the top environmentally responsible brands in South Africa, as well as around the world. As a third generation Llandudno citizen, Jasper's love for the ocean; his adventurous spirit, and enthusiasm for conscious lifestyle design continues to drive him to explore new paths for Sealand. When he's not in a meeting sipping on an oat milk flat white at Deus, the café alongside Sealand Campus, you'll find this intrepid explorer surfing, skating or venturing around South Africa with his wife and daughter. 
Nana Matete
Described as 'French Dynamite', Nana has been the soul of Sealand since the beginning. When she took time off to welcome her twins into the world, we knew we'd miss her but didn't realise how much! We are over the moon to have her back and don't think we could survive without her again. Nana brings so much light and magic into the studio, and spreads happiness like confetti. The only things she keeps to herself are her dreams and that's fine – we know that this French Dynamite is going places. Watch out world, Nana is coming. 
Ntombozuko 'Ntombi' Qhora
Everyone at Sealand has their own unique style, and Ntombi is known for being glamorous. Whether it is Monday or Friday, sunny or snowing, she comes to work looking like she is about to step onto the red carpet at the Oscar's. She is a highly skilled machinist and someone who can always be relied on to go above and beyond for the team. Ntombi dreams of being a teacher and we couldn't back her more – everyone she meets, she touches their heart. 
Adrian Hewlett
Adrian Hewlett grew up in Zambia and Mozambique and is a fluent speaker of French and Portuguese. Following a successful career in the world of advertising and media, Adrian became the CEO of Sealand in 2020 after sitting on the board as a non-executive. Adrian - and his business initiatives - have won numerous awards, including 'Most Admired Agency Boss' and 'National Agency to Watch'.
A serial entrepreneur, he brings years of experience, dedication, and acute organisational skills to Sealand to elevate the brand and the operations that uphold it. On top of this, Adrian is an adventurer and endurance runner – the epitome of the Sealand lifestyle.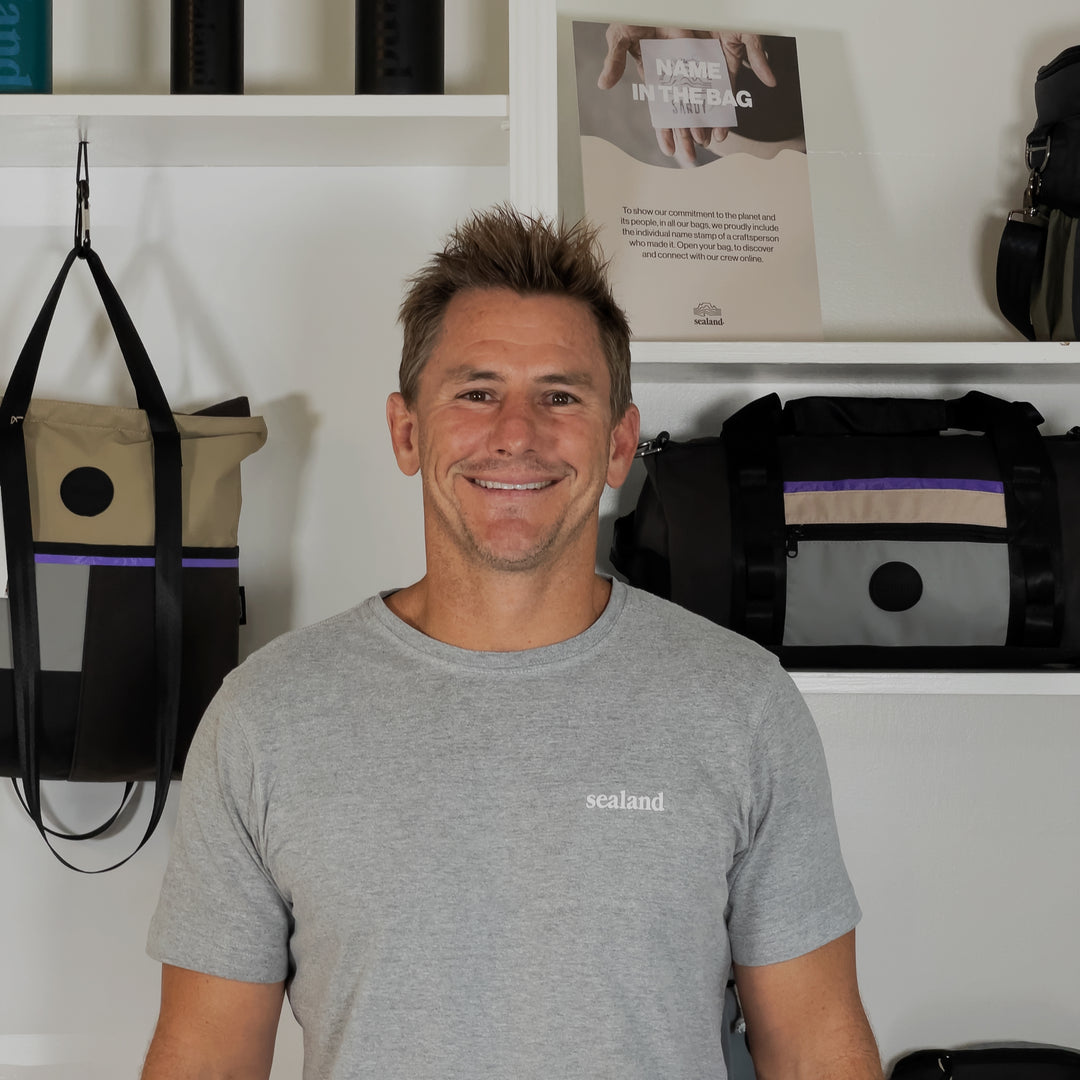 Kiza Rukengeza
Kiza has the kindest heart, is a lover of music, and is an excellent machinist from the DRC. He learnt to sew in his hometown, where he would observe his mother sewing and practice alongside her. Since he joined the Sealand Crew, he has graced us with his excellent skills. Kiza feels like he has a family here at Sealand and we agree with him!
Jordan-Lee Vera
Jordan is a father before anything else; die-hard Manchester United supporter and a strong believer of always staying positive. He's been lucky enough to travel around most of Africa and has experienced a wide variety of cultures. He's fluent in English, Afrikaans and Xhosa, which means he always has the inside scoop in the Crew! You can find him in our Stellenbosch branch spreading the good vibes.
Emmanuel Mulumba

Emmanuel Mulumba has been with us for a long time and it is hard to imagine Sealand without him. He is all the way from the Congo, and makes Roamers, Spex Camera Bags, and people laugh. He works as hard as anyone, and his smile lights up the studio every day where he enjoys working as a family with his Sealand sisters and brothers.


Judith Mukendi
Judith began her journey sewing in the DRC Congo where she was born. After arriving in South Africa in 2009 with her husband and children, she found a job sewing bags. Fast forward to 2020, Judith joined the Sealand family, again making bags! 
Judith is a mom, a fashion lover, a sewing guru, and an avid baker (which we are grateful to benefit from every now and again). Judith hopes to open her own coffee shop one day where she can dive into the world of baking and provide people with tasty goods. We can't wait to visit Judith's coffee shop in the future!
Luke Johnston
Unofficially, Luke heads up new business development and sales, spreading the word about our story with everyone he meets. Officially, he is HoS (Head of Stoke) at Sealand – and he's stoked to hold that title! In a long line of on-going experiments, we've tried hard to bring his mood down, and can say with absolute certainty that it is impossible. Luke wears a huge smile, a bigger heart, and is a Sealander through-and-through.
He dreams of taking Sealand beyond the shores of South Africa and into the global market. Watch out world, Sealand HoS is making waves. 
Vuyo Sazona
Vuyo is one of the friendliest faces around the studio. Even though the job of cutter was a new experience when he joined us, he is now more precise than a German's timing. He spends his weekends relaxing and going to church, and his weeks infecting us with his smile. We are stoked to have him on board, and it is now impossible to imagine the studio without him!
Shumirayi "Shumi" Chikwama
If you've got yourself a Jolla, Bettie, or Shel, then the chances are good Shumi made it for you (with more love than most can give). She came all the way from Zimbabwe to spread her warmth over Cape Town. She loves life, making travel bags, and working at Sealand. With a dream of starting her own bag manufacturing company she is someone to keep an eye out for in the future! For now, though, we will count our lucky stars that she is a part of the Sealand family.
Leah Weldon

Leah is our fun loving, social butterfly with the kindest heart. Her passion for design and hunger for growth led her to join the Sealand family and she continues to give 100 percent of her creative energy to the team at the Stellenbosch Sealand store. When she's not in design mode you'll find her in the Sealand Stellenbosch store.


Nonthatu Constance Dubase

Constance, also known as Nondatu, is one of Sealand's many success stories. She came to us with limited knowledge of sewing and bag manufacturing. Despite this, we could tell there was something special about her and welcomed her into the family. Today, she is a master machinist and chatter (there's never a dull moment when she's around), and an integral part of the Sealand family. Like so many in our Sealand Crew, Constance embodies an entrepreneurial spirit and she hopes to open her own business in the future.


Rachael Musariri
Rachel is sweet as sugar and is not shy to ask you how your day is going – and really listens to what you're telling her, lending an ear to anyone who needs it. Rachel is one of our skilled machinists and is all the way from Zimbabwe. She spends her weekends getting involved in her church community, where she brings people together from all walks of life. Rachel loves improving her skills here in our sewing room and enjoys the fact that there are always new things to learn from and do with the Sealand family.
Oliver Kabongo
Oliver is another one of the original Sealand family members. He is married to Joelle and is head of our Sales Team. Oliver studied to be a veterinarian but found his heart was in sales and interacting with people, rather than our fluffy companions. He hopes to continue to develop his skills in business and marketing. 
Oliver makes sure that all customers at the Sealand Experience Store and Waterfront Kiosk are well taken care of. If you've met him, you'll know what a great guy he is. If you haven't, then it is worth making the trip to the store to say hi.
Sam Gait
Sam is a graphic designer and is one of our interns at Sealand. Zimbabwe-born and raised in Malawi, she settled in South Africa to study further. Sam spent time in Stellenbosch attaining her Design degree, she describes herself as someone who, much like a turtle, takes time to come out of its shell, and enjoys a deep admiration and love for the sea (especially after a fearful swim in with a jellyfish as a child).  Her love for water flows from the ocean shores to school swimming pools where she's spent much of her time as a high school pupil.  Her competitive edge comes from being a competitive swimmer and Captain of the Malawian team in 2017, which reminds her to always look forward with focus.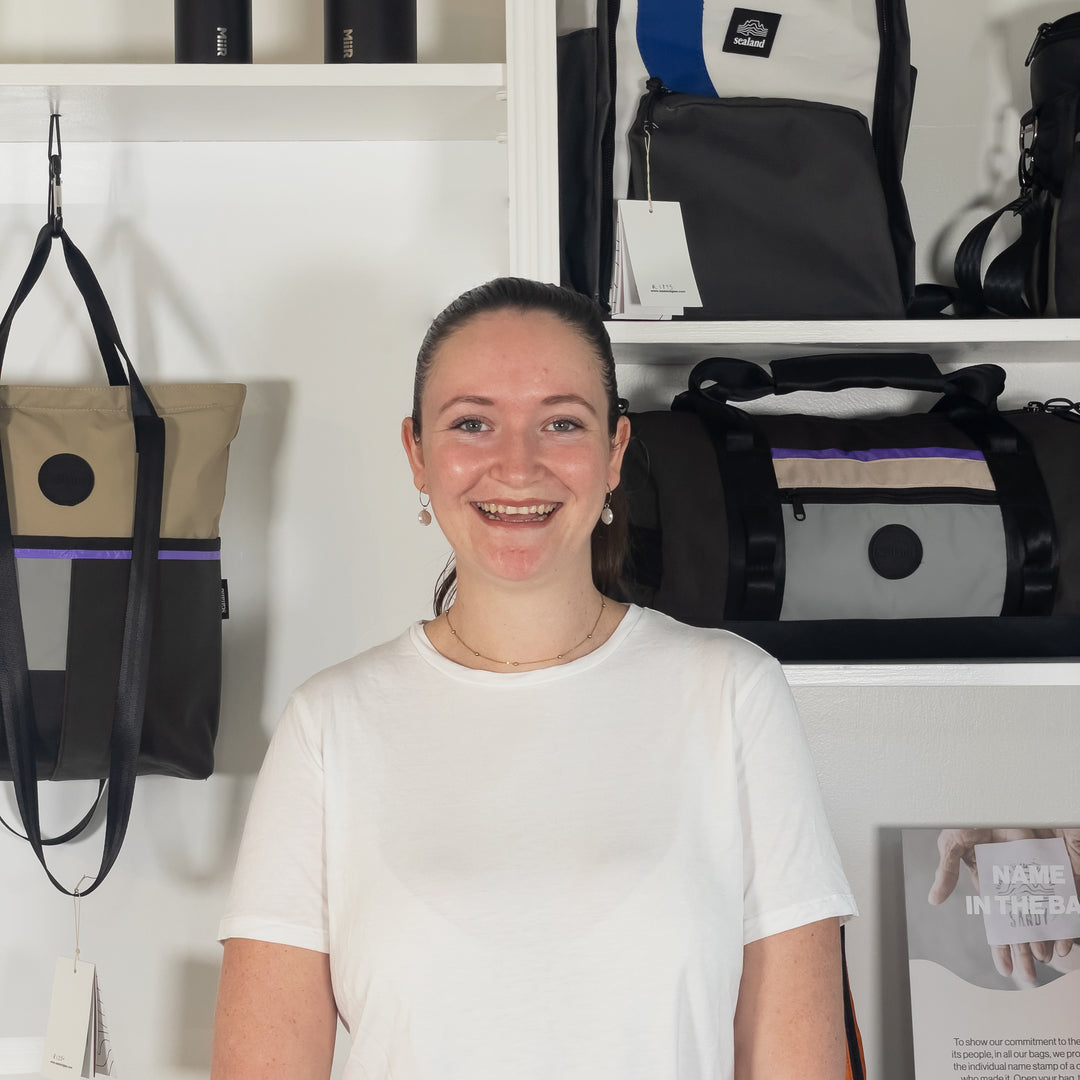 Pascaline Tshiela
Say howzit to Pascaline, a lover of fashion and an excellent addition to our Studio Crew and Sealand family. Pascaline is serious when it comes to work and being a machinist but don't be fooled – she also has a fun side to her, making our days at the Sealand Campus extra special. Spending time with family and listening to music are her weekend pleasures.
Brenda Ngubetole
Meet Brenda, she is an instrumental part of the Sealand crew; you can find her in and around campus and we can bet that she will greet you with a big smile. Brenda has a son who she loves to spend time with on the weekends and help him grow and learn about the community and environment he lives in. Born in the Eastern Cape, we sure are glad she ventured this side.
Julia Moxley
Meet Julia, a graphic design student who encapsulates everything Sealand stands for. Julia's passion for the environment and love for the outdoors and exploring new places plays a big role in her creative mind, steering her creative style. She uses her creativity to bring a vibrant culture to our Stellies store.
Zolani Masembathe
Oh, Zola, what would we do without you? Zola ensures every Sealand product is of the highest quality before you receive it and that it safely departs when being shipped to you. A CrossFit enthusiast and part time rugby player at the weekends, Zola is always busy. This Cape town born young man may seem shy at first, but he enjoys a good vibe and some dancing. Strike up a conversation about fitness and his face lights up! 
Andiswa Mankune
We love people who love their job and after sitting down with Andiswa it's pretty clear that this is the way she feels. From the Eastern Cape of South Africa, she is a machine on the machine and works harder than almost anyone we know. When she does lift her head from her work it is always to get in on some of the fun around the studio. Her hard work, gentle nature, and warm smile make her an integral part of the Sealand family.
Silulami Linden Ntuli

He's known as the 'Quality Police' around the studio and, with all that smiling, we think it must be because he is so intimidating. In reality, he is quietly spoken, deeply respectful of everyone, and always ready to get in on a joke. With a passion for beer and people we have no doubt the beer from his brewery will one day make a German's jaw drop! 


Leïla Bonmariage
Leïla is our Production Manager at Sealand. Known as the one with the curls, with an affinity for corn chips and hummus, being in the mountains, always looking for an adventure or challenge, known to be obsessively tidy. If you are looking for a dad joke, find Leïla, she always has a good dad joke up her sleeve.